Teaching/Lectures/Conferences
Teaching: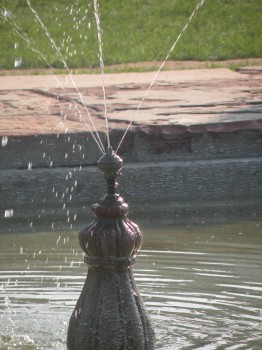 Taj Mahal Fountain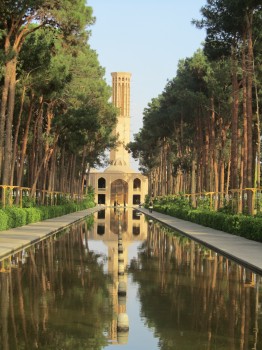 Daulatabad Garden, Isphahan
The Prince's School of Traditional Arts (began teaching 1993 ):
Emma is Senior Tutor/lecturer for theory on the post-graduate MA VITA (Visual Islamic and Traditional Arts) Programme at The Prince's School.
She runs a series of seminars in the Autumn and Spring Terms of every academic year for the 1st Year Masters and Doctoral students. The main subject of these seminars is the philosophy of sacred and traditional art, concentrating on the universal principles and criteria which underlie and inform the different art and craft traditions of the world. These seminars – as well as informal lectures by Emma – also cover related topics such as aspects of Islamic art, architecture and gardens, as well as Sufism.
One of the principle aims of the seminar series is to encourage an appreciation of the sacred, timeless values that are fundamental to the arts of the great traditions of the world. In order to understand these values it is essential for the student to realise what is meant by the term "Tradition". The word itself, as it is commonly used today, generally refers to "customs" or "mannerisms" of a particular society, but true Tradition has its source in the Divine realm and is the inspiring principal within each culture. Through studying the art of a traditional society, whether it be the art of Islam, of the North American Indians or of the Christians of the Middle Ages, the aim of the course is to inspire students to understand the meaning of this art, to examine the inspiration and the intentions of those who made it, and thereby to understand and appreciate the sacred and timeless values that it represents.
Every student is required to write two essays for this Course, the first short essay answering the questions 'What is Sacred Art? and 'What is Traditional Art?'; the second extended essay on a subject of their choice selected from the field of the sacred and traditional arts. Emma reads and assesses these essays, besides giving individual tutorials to each student.
Emma also runs the lecture programme at The Prince's School, carefully selecting both established lecturers and practitioners in the field of the sacred and traditional arts (e.g. the late Dr. Martin Lings, specialist in Quranic calligraphy and illumination, Professor Keith Critchlow, inspiring founder of VITA, geometer and architect, and Professor Seyyed Hossein Nasr) as well as a younger generation. (e.g. Dr. Reza Shah-Kazemi, Dr. Jeremy Naydler and Mr. John Martineau).
Emma is also part of the staff team who take the M.A. student body on the annual field survey, giving several informal lectures on site.