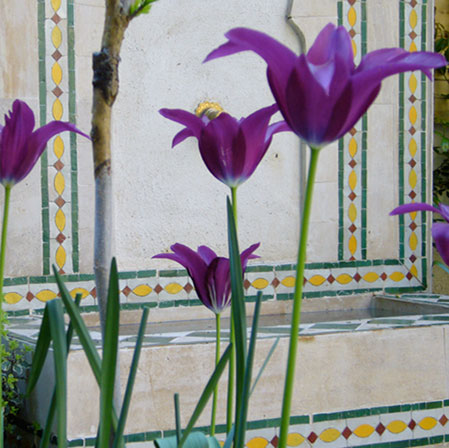 Emma Clark designs gardens with a fundamentally spiritual and holistic outlook, undertaking them for private clients and public institutions, both in the U.K. and abroad.  She specialises mainly in Islamic gardens, focusing on contemporary interpretations of traditional principles.
She is Senior Tutor on the post-graduate Visual Islamic and Traditional Arts  (VITA) Programme at The Prince's School of Traditional Arts, London (See 'Lectures/Teaching')
Emma has published four books: The Art of the Islamic Garden;  'Underneath Which Rivers Flow', The Symbolism of the Islamic Garden;  and two children's books, Mehmet the Conqueror and Sinan the Architect. (See 'Publications')
NEWS 2017-2018: Emma continues to lecture regularly on various aspects of the Islamic garden including one at York University (March 2017) as part of the York Islamic Art Circle, and again at the Victoria and Albert Museum as part of their programme on the History of Gardens (June 2017). In March  2017 Emma gave a lecture on Sacred Art at The Temenos Academy in London.
UPDATE 2018!  Don't miss Emma on 'Monty Don's Paradise Gardens' shown on BBC2  Jan 19th and 26th 2018 at 9pm.
After the success of her third workshop on Sacred Gardens, together with her two associates, Adam Hunt and Tom Bree,  Sacred Gardens Workshop, June 4th-5th 2016 at Wells in Somerset a fourth is now planned for the weekend of June 16th -17th, 2018, this time at the beautiful Chalice Well Gardens in Glastonbury. Watch this space! For early reservations please email me, see Contact page (See also Sacred Gardens, May 9th-11th 2014 )
Emma continues designing gardens including ongoing projects such as a private garden in Saudi Arabia, the new Cambridge Mosque, UK, and the Islamic gardens at the Royal Botanic Garden, Jordan. She also continues tutoring and lecturing both in the UK and abroad.