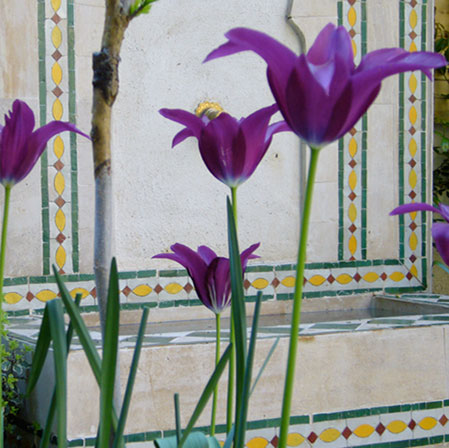 Emma Clark designs gardens with a fundamentally spiritual and holistic outlook, undertaking them for private clients and public institutions, both in the U.K. and abroad.  She specialises mainly in Islamic gardens, focusing on contemporary interpretations of traditional principles.
She is Senior Tutor on the post-graduate Visual Islamic and Traditional Arts  (VITA) Programme at The Prince's School of Traditional Arts, London (See 'Lectures/Teaching')
Emma has published four books: The Art of the Islamic Garden;  'Underneath Which Rivers Flow', The Symbolism of the Islamic Garden;  and two children's books, Mehmet the Conqueror and Sinan the Architect. (See 'Publications')
NEWS 2015: Emma's lecture at the Queen's Gallery in London on September 30th, 2015,  part of their 'Painting Paradise; The Art of the Garden' exhibition, was packed and went very well.
After the success of the second workshop on Sacred Gardens, May 9th-11th 2014 at Wells in Somerset with her two associates, Adam Hunt and Tom Bree, Emma is very happy to announce that there will be a third Sacred Gardens Workshop, June 4th-5th 2016. We already have several people signed up for this do write soon to info@emma-clark.com for more information and book your place!
Emma continues designing gardens, tutoring and lecturing, most recently speaking at the Queen's Gallery, London in September 2015, the Wasinga Festival, Buckinghamshire, August 2015 and at the Chalice Well Islamic Arts week at Glastonbury, Somerset, in June 2015. In 2014 she was delighted to give papers at two wonderful conferences, one in Delhi on traditional cultures across the world, and one in Greece specifically on Islamic Gardens. Ongoing exciting garden design projects include a private garden in Saudi Arabia, the Cambridge Mosque, UK, and the Islamic gardens at the Royal Botanic Garden, Jordan.