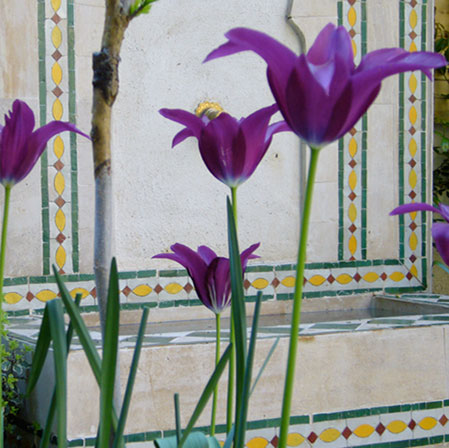 Emma Clark designs gardens with a fundamentally spiritual and holistic outlook, undertaking them for private clients and public institutions, both in the U.K. and abroad.  She specialises mainly in Islamic gardens, focusing on contemporary interpretations of traditional principles with naturalistic planting schemes and sustainability at the heart of her practice.
She is Senior Tutor on the post-graduate Visual Islamic and Traditional Arts  (VITA) Programme at The Prince's Foundation School of Traditional Arts, London (See 'Lectures/Teaching')
Emma has published four books: The Art of the Islamic Garden;  'Underneath Which Rivers Flow', The Symbolism of the Islamic Garden;  and two children's books, Mehmet the Conqueror and Sinan the Architect. (See 'Publications')
NEWS 2018-2019: Emma continues to lecture regularly on various aspects of the Islamic garden including one at the Shaykh Zayed Mosque Abu Dhabi where she was interviewed and filmed (November 2018); one at a Conference in Konya, Turkey, May 2018; and another at a Conference at Brunei Darassalaam University, March 2018.
UPDATE 2019! Emma designed the Islamic Garden at the new Cambridge Mosque and at last, after many years of design and build, the Mosque (Marks-Barfield Architects, designers of the Millennium Wheel) will be opening this coming May 2019. The garden has been designed in association with Urquhart and Hunt Landscape design and goes on site over the next few weeks, February 2019 – an exciting time!
2018:  You may still be able to find Emma on 'Monty Don's Paradise Gardens' first shown on BBC2  Jan 19th and 26th 2018.
SACRED GARDENS WORKSHOPS: After the success of her fourth workshop on Sacred Gardens, together with her two associates, Adam Hunt and Tom Bree,  June 16th -17th, 2018,  at the beautiful Chalice Well Gardens in Glastonbury, a fifth is planned for 2020. Watch this space!  (See also Sacred Gardens, May 9th-11th 2014 )
Emma continues designing gardens including ongoing projects such as a private garden in Saudi Arabia, the Islamic gardens at the Royal Botanic Garden, Jordan, a private garden in Hemel Hempstead and more … She  continues tutoring and lecturing in the UK and abroad including being a specialist Islamic consultant on a visit to the Alhambra with a group of American garden enthusiasts led by Amanda Patton Landscape Designer. (April 2019)